… rural America is shrinking, and, for some, this means it's time to go into retreat. Rather than pitching in to maintain what they have, people are willing to go it alone, to devote all their resources to their own homes and their own families. … Mr. Widener told me he had watched some of the Democratic debates, and his reaction was that everything the candidates proposed was "going to cost me money." … Trump voters view anyone who is trying to increase government spending, especially to help other people, with disdain, even if it ultimately helps them, too. And Trump voters are carrying the day here in Van Buren County. They see Mr. Trump's slashing of the national safety net and withdrawal from the international stage as necessities — these things reflect their own impulse writ large. They believe every tax dollar spent now is wasteful and foolish and they will have to pay for it later. … As long as Democrats make promises to make their lives better with free college and Medicare for all sound like they include government spending, these voters will turn to Trump again — and it won't matter how many scandals he's been tarnished by.
The study, by three economics researchers at the University of Texas, quantifies just how often the Electoral College will produce an "inversion" — that is, an election where one candidate wins the popular vote but the other walks away with the presidency. … "the high probability of inversion at narrow vote margins is an across-history property of the Electoral College system." The Electoral College has, at various times, given an advantage to Democrats, Republicans, and the now-defunct Whig Party. Now it gives a clear advantage to Republicans. This Republican advantage can shift elections where the Democrat was a fairly clear winner in the popular vote. "A 3.0 point margin favoring the Democrat," the study concludes, "is associated with a 16% inversion probability." In other words,Republicans will win nearly one in six presidential races where they lose the popular vote by 3 points.

It's not hard to imagine 2020 producing an even starker inversion. Historically red states like Texas and Arizona are trending toward Democrats, but most likely not enough to flip those states in the next election. If Democrats narrow Trump's margins in those states, while Trump barely holds onto states like Florida or Wisconsin, the next Democratic candidate could win the popular vote by 5 million votes or more — and still lose the Electoral College.
Moderate, independent and undecided voters are not the same, and none of these groups are reliably centrist. They are ideologically diverse, so there is no simple policy solution that will appeal to all of them.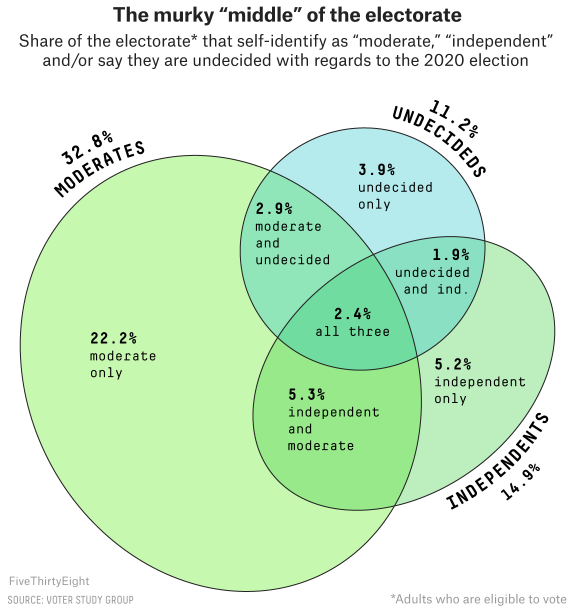 Yesterday I was tagged in a post by an old high school friend, asking me and a few others a very public, direct question about white privilege and racism.  I feel compelled not only to publish his query but also my response to it, as it may be a helpful discourse for more than just a handful of folks on Facebook. [worth reading!]